I pin a lot of things over on
Pinterest
. Or at least, I have in the past. But if I'm being real (isn't the the idea here?) then the only pins that really matter are the food ones. I have several boards due to my efforts to be all virtually organized. I have breakfast, snacks, desserts, side dishes and main dishes. But what board gets the most action? The main dishes. That's what I'm going to look at most when I click on the swirly P icon.
I'm a kind and generous person. I don't want you to waste your time cooking meals no one will eat. So I'm here to tell you what to make that will meet with mostly good reviews. (The opinions of the 3 and 5 year old children don't carry much weight here.)
Skinny Crockpot Sausage Tortellini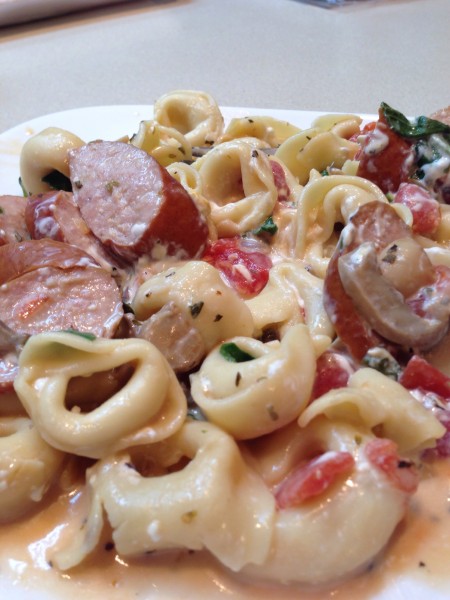 (photo credit
Kiran, The Pinterest Wife
)
I only had full fat cream cheese at home and I will probably always use that, so skinny doesn't really apply here. What does apply is deliciousness. I cooked ours with less broth so it was more like a pasta in cream sauce than a soup. We had vegetables on the side. And the whole family loved it, even the littlest ate the sausage at least.
Creamy Crockpot Chicken and Tomato Soup
(Photo credit:
River North Paleo Girl)
What? I love my crockpot. You know you love yours too. I was not sure this would be well received, as I've never really served tomato soup to my family. (I'm not a huge fan usually, myself.) But this was delicious. Again, everyone ate it with minimal complaint, once they got that first bite.
Pesto Ranch Crockpot Chicken Thighs
(Photo credit: Jenny at
Picky Palate
)
Okay, maybe I have a crockpot problem. But it is just so darn handy to put stuff in the crockpot in the morning and know that when I'm juggling the homework of multiple children and a busy 3 year old and sports practices and just life that dinner is already almost done. We eat this with rice or pasta and vegetables.
This concludes my Pinterest public service. For now.